12 Jun

Club Championships Update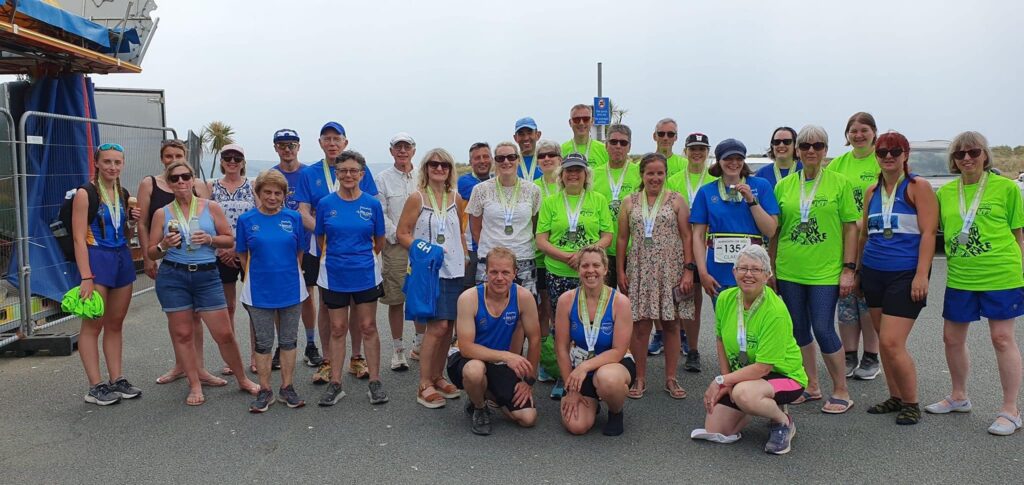 Find out how the competition is shaping up from our reporter and analyst Oliver Perratt.
Well done to everyone who raced this sultry weekend, whether Barmouth, Ironbridge, Church Stretton, Hopton Wafers, Swansea or anywhere else.
Cracking efforts all, the hot, muggy conditions were tough to say the least. I am now a sweaty puddle, only able to flow downhill and have to be scooped up in a mug to go upstairs. It's a miracle I can type.
It's been a while since we last saw the club championships results, and with a May double (Hereford Couriers 5k last Wednesday and Barmouth yesterday), I thought it time to share my Impenetrable Spreadsheet of Numbers and Sorting, once more.
Sybil is the first to have done the required 6 events (will she do them all!?), with Eva, Jo, Sally, Andrew and Steve all on 4.
It's a fierce battle in the Male Vet 40 with Steve and Andrew currently tied: Tim and Angus are on the chase though, only 1 race behind.
Eva is leading in Female Senior category but can Samantha and Gemma catch her, just a race behind. Gosia and Clare are battling it out on 3 races each in Femaile Vet 40.
Two races up, can the indomitable Sybil hold off Jo and Sally in the Female Vet 60 category?
Adam is ahead in Male senior category with 3 races under his belt, while the Male Vet 60 group is seeing a tight contest between Paul, Clive and Tom, all on 3 races and within 1 point of each other.
Remember it is your best 6 to count, and with 5 still races to go it's all to race for!
Lowest score wins (1 point for first place, 2 for second etc).

We have had a little shuffle of races, with Leominster 10k being added, as well as Worcester where there is both a half-marathon and 10k on offer in September.
Next month we will be travelling far and wide to the exotic town of Ludlow. You may recognise it, I hear it has a pretty good running club.