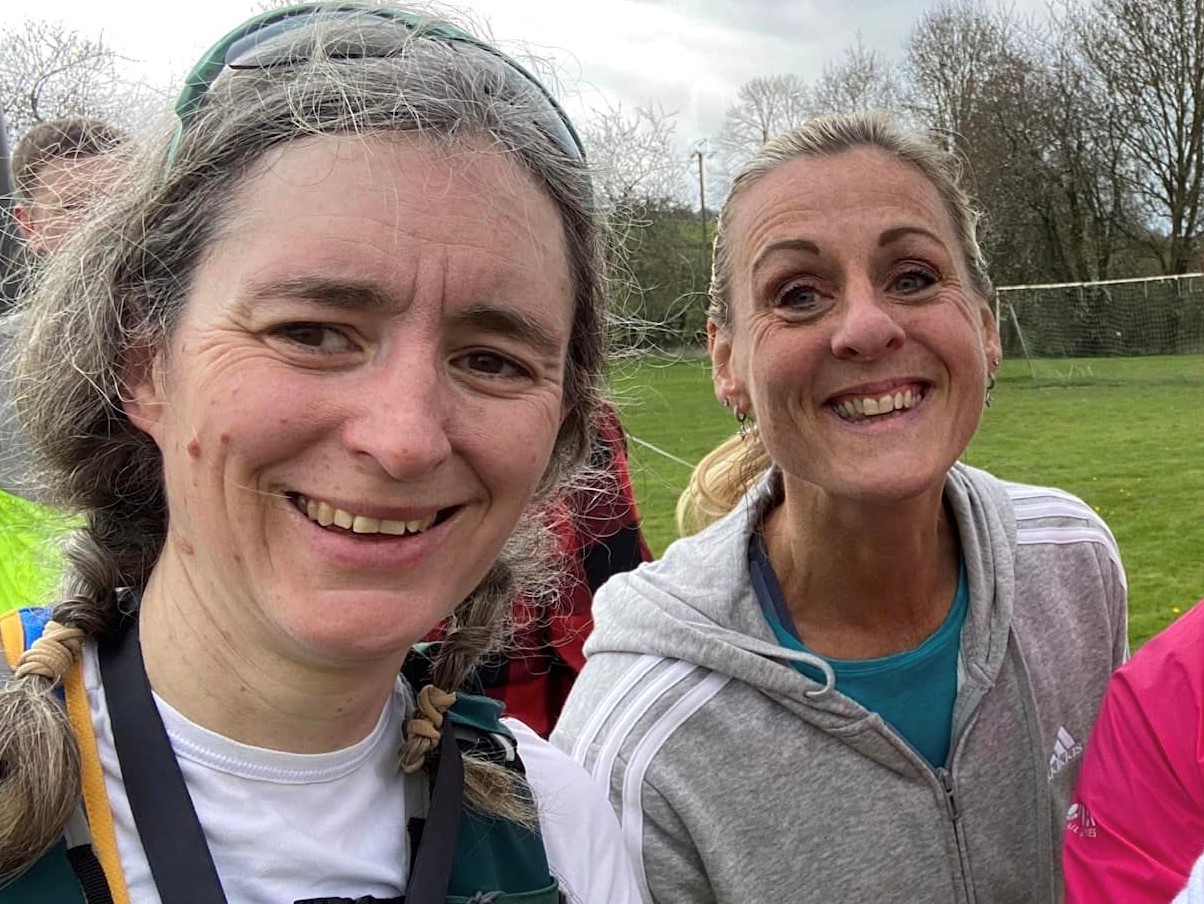 27 Apr

Clun Trail Half Marathon

by Trudy Macklin

The last trail event I did was in 2019! (well apart from Ludlow parkrun that is!) I've been trying to be at one with where I am with my fitness, coming back in the new year from illness and have struggled with setting myself too many expectations and putting too much pressure on myself. I booked this knowing full well I could be a whole lot fitter and more prepared, and intended instead to focus on time on feet in a lovely place, with lovely people and recognising the beauty of outdoorsy active lifestyle and being grateful to have our health to take part.

Organised by Running Monk Trail Events – aka Katie and Alan – HQ was at Clun memorial village hall with great car parking, toilets etc. lots of regular emails prior to the event all containing the key facts you needed -brilliant not to have to dive into a website or do a search to find out where you were going or what time things were. Registration was quick and simple.

I was really nervous and flapping a lot in the morning. I have in the past had really bad pre-race anxiety which leads to total inability to make decisions on what to wear etc and get organised. I was checking the weather far too regularly! The Tuesday night forest runners who I've been with will be surprised no shocked I tell you to say I ended up in shorts! Although I did take with me a full bag of different options in the car!

It was great to see Amy Fulford and Fern at the start, with Fern coming along with me for a jolly/ chief cheerleader- they really helped me relax and Amy was right about the shoe choice! Much appreciated! I was super worried it would be a total mud fest given the state of Mortimer Forest recently but went with my comfier trail shoes. Ended up with my little running pack to carry my own water (2 x soft flasks) and my waterproof as rain was due to come in about 12. Honestly I probably could have got away with my flip belt and my shorts that have loads of pockets.

Really good pre-race briefing which was on point with key challenges on route – 1000ft climb in the first 3 miles (I did spot that when I downloaded the route!) cupless aid car at miles 6-7, little bit of a flood mile 9, watch the navigation by the farm mile 12.

And then we were off. The first half up into the forest the early climb was hard! I did wonder when I would actually do any running! But the mud I was worried about wasn't there at that point so that was good – the route in the forest was much like Mortimer, a mix of forestry tracks and also single track. Conditions wise it was the farm lanes and fields which were worse and very muddy, and pretty much unavoidable – there was one bit through a farm which was probably the cows route to wherever where you really didn't want to slip and slide!! On a plus point we did see some baby calves.

The last bit of the route saw us return to Clunton and then the bit where we had to watch the navigation – well guess who got that bit wrong! It was seeing runners run the other side of the fence to where we were and we realised we had gone a bit wrong but it wasn't too bad of a mistake although we did feel like numptys as that's exactly what we were told to watch. At about this point I was heading into new territory for time on feet for this year. Running coaches turn away here but I'd only done 2 hrs tops on the road this year and I knew this would be up to 3 on trail! Oops probs not recommended! Veloforte chews the caffeine ones to the rescue! Yes I was feeling it! Checking my watch and saw we had passed the parkrun to go sign- Yippee although at this point there was one last very cheeky climb and it was head down just count one foot in front of the other. To the top I said to Fern lets go home – downhill rather tentatively for me and I was just hoping to see the end as I was reaching my limit! Rather meanly the last path to the finish took its route alongside the car park and you popped out at the top end! And yes despite trying not to be goal driven I was under my target time of 3 hours finishing in 2hrs 48! Very much assisted by the wonderful Fern.

Total elevation Garmin said 666!!

We avoided the rain! Hooray! It came as I drove home! That's a win in my book!

Lovely of Amy to wait for us, and huge congratulations for her win!

A lovely carved wooden medal and a travel mug for completing! Very nice!

A lovely low frills event with more interesting events to come with longer distances for those that are into that sort of thing – do check them out.